The Wall That Heals
This October, the Babylon IDA is partnering with the Town to  bring The Wall That Heals to our community. The Wall That Heals is a three-quarter scale replica of the Vietnam Veterans Memorial in Washington, D.C. and it will be in Tanner Park October 5 – 8th. More information can be found on the Town's website and the Vietnam Veterans Memorial Fund's website.
If you or your organization would like to support The Wall, you can use the form linked below to sponsor the event: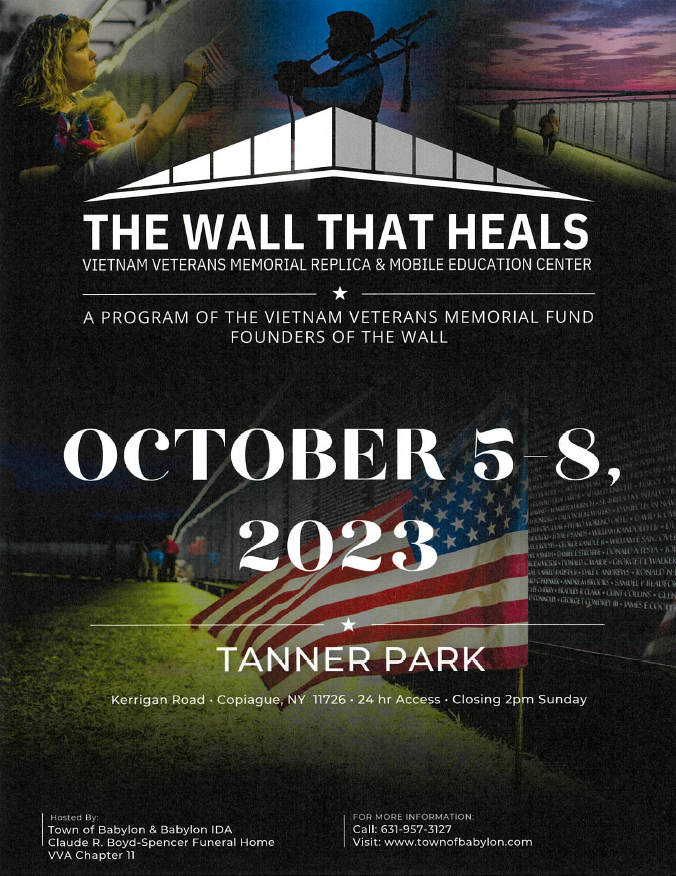 Babylon EIP
The Babylon Economic Inclusion Program (EIP) is a new Babylon IDA initiative – it epitomizes what we do: promoting business development within the geographic boundaries of the Town of Babylon.
The Babylon EIP – Empire State MWBE Connection
Babylon is one of the most diverse towns on Long Island; the Babylon EIP has been set up to take advantage of this diversity. The Empire State Minority- Women- Owned Business Enterprise (MWBE) Program is a NY State program that "expands opportunities for minority and women entrepreneurs to access government contracts and grow their businesses." The purpose of the Babylon EIP is to facilitate the connection between local entrepreneurs and the many resources available through the MWBE program. This may include funding, business advice, tax guidance and more.
We also bring the everyday resources of the Babylon IDA to the table:
Incentives That Go Directly To The Bottom Line
Our financial incentive packages are designed to help lower your operating costs. We offer a variety of financial assistance, including:
Real Estate Tax Abatements for qualified companies and projects.
Sales and Use Tax Abatements for exemption on state and county sales tax on materials and equipment included in a project.
Mortgage Recording Tax Abatement if a mortgage is used to finance the project.
Save Money
Further financial assistance is available for the purchase, rehabilitation, or expansion of existing facilities, for new construction, and for machinery and equipment. Low interest financing available through the Babylon IDA include:
Tax-exempt bonds: projects can be financed through low-cost tax-exempt bonds.
Taxable bonds: projects and some costs who do not meet the qualification for tax-exempt bonds can be financed through low interest taxable bonds.
Fast Approvals
Delays in getting required approvals can add thousands to the cost of an expansion, move or development project. At the Babylon IDA, we've cut the red tape and fast-tracked the approval process. We even work with town and county agencies to give you "up-front" feedback on your proposed plans. That helps cut approval time even further.  That saves time. And in business, time saved is money saved.
There's a whole lot more – visit the Babylon EIP website here.